Thinking about building your dream kitchen? Reliable Remodeling LLC can help you create your ideal space for cooking, eating and socializing. Here are some of the newest products and hottest trends in kitchen design.
1. Apron-front kitchen sinks
This sink by Kohler is timeless and beautiful. It creates a focal point in the kitchen with its simple elegance, but it's also very functional in its ability to hold large pots and platters.
2. LED Ambient, Task and Accent Lighting
A balance of uplighting, task lighting and ambient down lights or pendants minimize glare and shadows. Well positioned task and down lights give you light where you need it most. Pendant lighting is perfect for dining areas. Kichler offers some beautiful options.
3. Touch-free intelligent faucet
The next wave of intelligent kitchen products include touch free faucets. The auto sensor controls water temperature and flow. Cinaton is a leader in this technology.
4. Classic White Cabinets
Skip the trend of the moment and opt for timeless kitchen cabinets in white or off-white. There are many styles of cabinets to choose from, from traditional to ultra modern.We also like the blog Kitchen Design Ideas for…you guessed it…kitchen design ideas.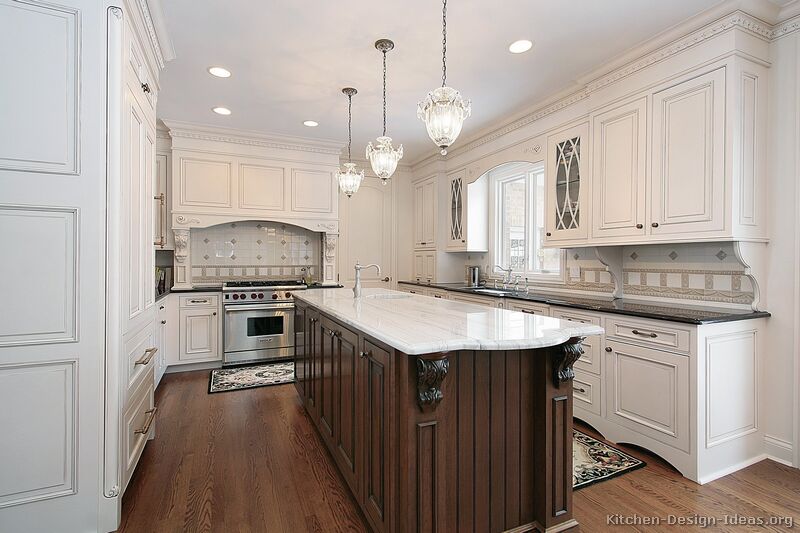 5. Smart appliances
Kenmore and other brands are now making an expanded line of kitchen appliances that are Energy Star rated and use smart technology. Examples include dishwashers that save water by detecting how much is needed, cook tops that only turn on when a pot or pan is detected, and low flow aerators for sinks to conserve water.